Orgone Energy Vest
2 new fabric designs
We have taken the Orgonics' Blanket and made it wearable. The Vest is made of 3 layers of fluffy carded wool alternating with steel wool in a removable inner filling (3 ply). It is made with 4 loop-held buttons down the front and edged around the armholes, neck and front with cotton binding. The bottom opens with a zipper so the inner orgone filling can be removed and the outer shell cleaned.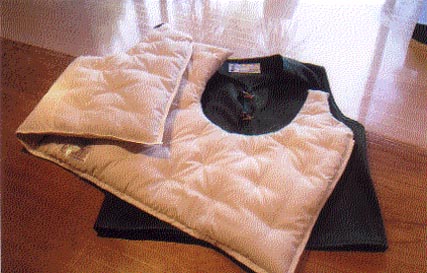 Inner organic cotton-covered orgone layering can be removed
so the outer shell can be cleaned.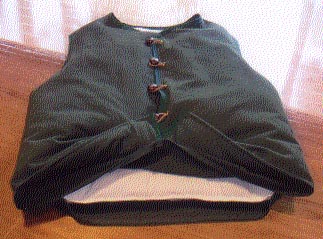 The Orgone vest zips open at the bottom to remove the inner orgone layers.
2 New fabrics: The outside shell, which is washable, is now made with a choice of 2 fabrics.
One choice is a soft, wool blanket material woven in the Himalayas
which can be dry cleaned (only use organic dry cleaners) or hand washed.
The other choice is a dark green cotton canvas, pictured below,
that is machine washable.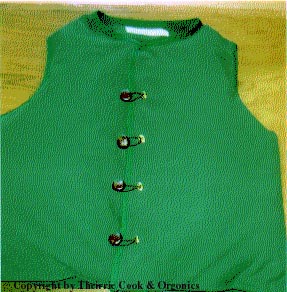 Both choices are available in two sizes:
Medium, for people 5'9" and under;
Large, for people over 5'9" and of wider girth.


-- Wool Vest: $ 395.
-- Cotton Canvas Vest: $350.
IMPORTANT: Orgone blanket vests can be used by most everyone; however, people who have the following blocked, high-energy conditions should either not use an orgone blanket vest or only under professional supervision:
chronic high blood pressure, arteriosclerosis, decompensated heart disease, brain tumors, skin inflammations, or who suffer from apoplectic attacks.
Caution with ALS and MS.
"A friend had pain from esophogeal cancer and couldn't sleep. When wearing the vest, he was able to sleep soundly." -- Orgonics Customer
Go to Orgonics' Home Page
Go to Orgonics' Ordering Information
Orgone accumulating devices are for experimental use only.
They are not medical devices.
If you have a medical problem, please consult a physician.
Contact:
ORGONICS
6490 Front St., PMB# 113
Forestville, CA 95436-9604 USA
(707) 521-9273

Questions? Would you like a printed catalog? E-mail us at: Orgonics@AOL.com
Copyright © 1998-2017 All Rights Reserved
this page and all contents.