Portable Orgone Accumulator
The 5 ply Portable Accumulator is perfect for a small apartment, to use on a bed, or with animals. Opening out like a cabinet, it is constructed of five alternating layers of sheep's wool batts and steel wool covered by water-resistant nylon within a wood frame and with removable/washable canvas covers on the outside surface and galvanized steel sheet on the inside surface. The two side panels are hinged to the center panel, open out, and are locked in a perpendicular position which enables the user to do the following: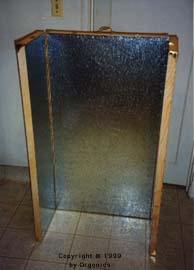 1. Stand the unit upright and sit in front of the open panels for a radiating charge. (Pictured above)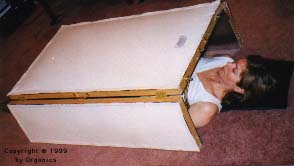 2. Lay the unit down, either on the ground or over a bed, and lie underneath the panels for a more penetrating effect. Especially good for the chest and pelvic area.
Also, useful for animals.

Note: The unit weighs aprox. 28 lbs. Easy to store: just fold up the side panels and lean against a wall, store in a closet, or under a bed.
5 Ply. Preassembled.
Measures 48" tall, and 30" wide with hinged sides at 90 degrees.

-- Price: $ 1250.

Go to Orgonics' Home Page
Go to Orgonics' Ordering Information

Orgone accumulating devices are for experimental use only.
They are not medical devices.
If you have a medical problem, please consult a physician.
Contact:
ORGONICS
6490 Front St., PMB# 113
Forestville, CA 95436-9604 USA
(707) 521-9273

Questions? Would you like a printed catalog? E-mail us at: Orgonics@AOL.com
Copyright © 1998-2017 All Rights Reserved
this page and all contents.