Orgonics Boots
Orgonics Mitts
Orgonics™ Boots
Envelop your cold, sore, aching feet in orgone energy!
Made on the outside with durable merino wool and lined on the inside with fuzzy, soft Himalayan wool, these boots slip on your feet easily with a back opening that closes with velcro straps. These boots are mainly to be worn indoors and not walked on a lot. The walls & soles of the boots are layered with wool batting and steel wool:
3 Ply.
Available in two sizes:
Medium for feet less than 9" long.
Large for feet 9-1/2"to 12" long
1 Boot -- $ 175.
Pair -- $ 250.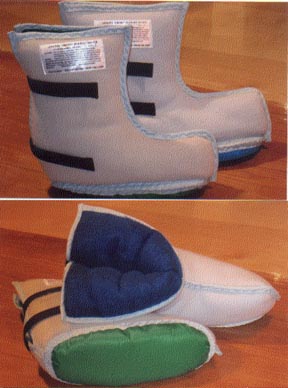 Inside of the boots is lined with soft, Himalayan wool;
outside is durable merino wool blanket material.
Velcro straps close the back opening;
this allows you to slip your foot into the boot without bending it.
Available also covered in Organic Cotton Flannel
1 Boot -- $135.
Pair -- $195.
---
Orgonics'™ Mitts

The Orgonics' Mitts are worn over the hands (or feet) and help reduce tension and especially arthritis discomfort. They are an excellent gift for an elderly person with stiffness or a cold feeling in their hands. 2 ply. Made from 2 alternating layers of wool batting and steel wool.

Choice of two covers:
Covered with organic cotton: (below)
One Mitt: $65.
Pair: $95.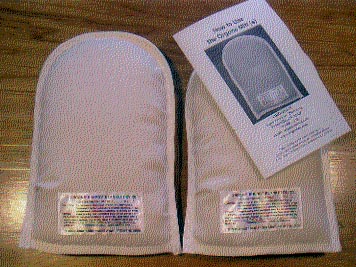 Covered with merino wool on the outside
and soft Himalayan wool on the inside
One Mitt: $75.
Pair: $115.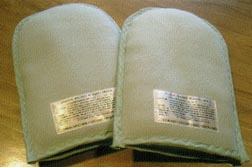 Go to Orgonics' Home Page

Go to Orgonics' Ordering Information

Orgone accumulating devices are for experimental use only.
They are not medical devices.
If you have a medical problem, please consult a physician.
Contact:
ORGONICS
6490 Front St. PMB #113
Forestville, CA 95436-9604
Phone: 707-521-9273

Questions? Would you like a printed catalog? E-mail us at: Orgonics@AOL.com

Copyright © 1998-2017 All Rights Reserved
this page and all contents.